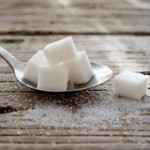 The latest ABS data on sugar consumption in Australia was released yesterday, and it's abundantly clear that Australia has a sugar problem. But should we all be "quitting sugar" in response?
The data shows that in 2011-12, Australians consumed an average of 60 grams of free sugars per day, which is equivalent to 14 teaspoons of sugar. The biggest players here were energy-dense, nutrient-poor foods and beverages, with 81% of free sugars coming from the 'discretionary foods' category.
Most alarmingly, 52% of free sugars in the Australian diet were actually consumed from beverages, not foods. Why is this a problem? Because beverages provide little satiety, have very little nutritional value (if any) and promote tooth decay. They are meant to be a "sometimes" treat, and yet the data shows we are consuming them far more often.
Soft drinks, electrolyte and energy drinks comprised 19% of the free sugar intake, while fruit and vegetable juices and drinks comprised 13%. This means we aren't just talking about fizzy drinks here, it's also the so called "healthy alternatives" like smoothies and acai bowls that are adding to our intake.
In terms of our major food sources of free sugars, it really came down to confectionary (e.g. lollies, ice cream), cakes and muffins, which as a group comprised 8.7% of free sugars in diet. I would argue that this is significant, but clearly not as big a priority as sweetened beverages.
This data is a huge concern nutritionally, but it's also nothing new to those of us who work in the field. The Australian Dietary Guidelines have, since their inception in the 1980's, ALWAYS advised Australians to limit their intake of added and free sugars. This is not recent evidence, it's nothing new, and it's exactly what dietitians have been telling people to do for decades. It's just that sugar has recently become the, er, flavour of the month and now people are obsessing over sugar to the exclusion of all other nutrients.
Instead of cooking faux desserts with rice malt syrup, dates, agave, raw honey, coconut sugar, maple syrup and all of the other "sugar alternatives" that are still actually sugar, let's try and get a few of the basics right:
Stop drinking soft drinks, full stop. Make them an occasional treat at birthday parties and special social events if you must, but be honest with yourself about how often you are having these treats and try and keep them as such.
Sports drinks are not required for most people unless they are performing high level endurance exercise. "High level endurance exercise" is not kids sport or your average spin class, I'm talking about a 10km+ run on a hot day maybe.
Sports drinks are not a healthy alternative to soft drink.
Energy drinks are just soft drinks with extra caffeine and other stimulants; they are best avoided.
If you consume any of these beverages (especially sports drinks), be vigilant with your oral hygiene. Brush your teeth and floss, but not immediately after, as your enamel will still be soft. Instead, rinse your mouth with water immediately after consuming these beverages.
Bear in mind that diet and sugar free beverages contain little to no calories (and obviously no sugar), but they are still very corrosive and will promote tooth decay.
Enjoy normal, non-healthified versions of your favourite cakes and treats, but enjoy them in moderation. "Healthy" versions of these items are not actually healthy, and they give us the false belief that they're not actually a treat anymore, so we eat them every day and in large amount. They're also not as satisfying or delicious as the real deal! You're far better off enjoying the treat you actually wanted in the first place, instead of eating a much greater amount of something that doesn't quite hit the spot.
You can view the ABS Data in full here.
Love my content and never want to miss an update? Make sure you sign up for email updates (left hand side) and follow The Off-Duty Dietitian on Facebook and Twitter.